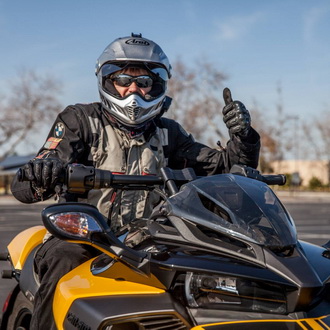 The Total Control 3 Wheel Riding Clinic (Total Control 3WRC®) is a hands-on, step-by-step course designed to teach experienced motorcycle or 3-wheel vehicle riders the physical and mental skills necessary to ride safely on the street. The course is conducted in one day and includes both classroom and on-cycle instruction.
Students may provide their own 3-wheel vehicle, proof of insurance and protective riding gear. Students that meet evaluation standards at the end of the course receive a completion card and their Class M license with a "9" restriction. This restriction prohibits operating a 2-wheeled motorcycle.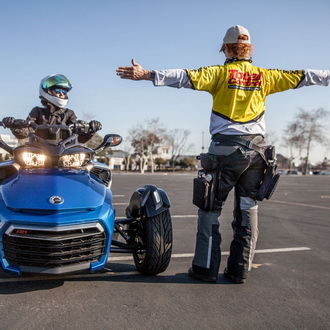 A three-wheeled vehicle may be provided, if available, but students may bring their own three-wheel trike, sidecar outfit or Can-Am Spyder. Autocycles such as Polaris Slingshots are not allowed in the course.
Taking the 3 Wheel Riding Clinic with a valid permit will result in a restriction "9" added to license upon successful completion of the course. This restriction prohibits you from operating a 2-wheeled motorcycle. To have a restriction "9" removed please call PennDOT at 1-800-932-4600, TTY callers dial 711, and request a special motorcycle learnerís permit. Upon successful completion of a skills evaluation on a 2-wheeled motorcycle, the "9" restriction will be removed.
Course Cost
The 3WRC is FREE to Pennsylvania residents with a valid Pennsylvania Class 'C' driver's license with a Class 'M' endorsement or a valid Class 'M' permit.
Out-of-state residents pay $285 to take the 3 Wheel Riding Clinic and must call 888.601.0613 to register.
Required Gear
A long-sleeve shirt or jacket, sturdy long pants without rips or holes, full fingered street-specific motorcycle or leather gloves, tough, over-the-ankle shoes or boots and eye protection (glasses, sunglasses, face shield, etc). We can provide a helmet, but if you bring your own, it must be three-quarter or full face and DOT approved.